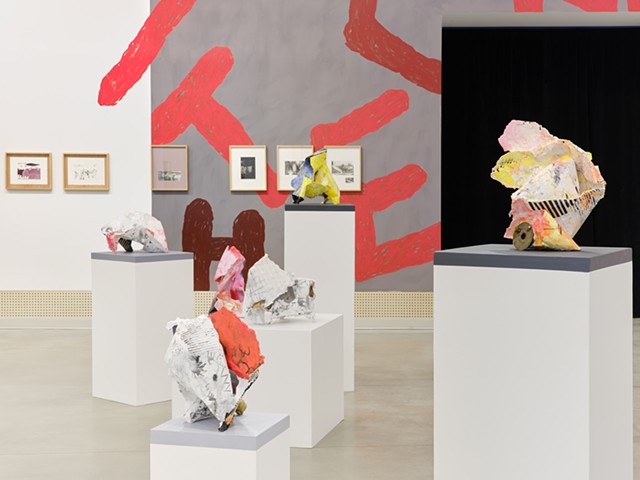 Photo by Rachel Topham Photography. Gordon Smith Gallery of Canadian Art exhibition We can only hint at this with words is up April 23-June 25, 2022 on Lonsdale Ave in North Vancouver, BC Canada. Artists Russna Kaur, M.E. Sparks, & Andrea Taylor, curated by Kate Henderson. Sponsored by Parc Retirement Living and North Vancouver Recreation & Cultural Commission.


Andrea Taylor artist statement
When I make sculptures, drawings and stop-motion videos, I think about what it's like to live in a body (rather than what a body looks like). I focus on the poetic nature of embodied experience, body fragilities, temporality, ambiguity and strength. I intend to engage with the viewer in a visceral way as they experience the work: in other words, the work can enter a kind of wordless conversation with the viewer.
Lately I've been focusing on mixed media anthropomorphic sculptures mainly made of cardboard pulled out of the recycling dumpster at the studio building where I work. Other materials often employed are needle felted wool, fabric, fibre glass, epoxy resin and salvaged metal. The sculptures are informed by two powerful female artists, Maria Lassnig who made what she called "body-awareness" paintings and Loïe Fuller who was a patent-holding inventor in the 19th century whose dance, filmed by the Lumière Brothers in 1896, infuses the abstract figures of my work. Other artists whose work I love and influence my practice include Phillida Barlow, Eva Hesse, Lee Bontecou, Amy Sillman, Louise Bourgeois and Karla Black.
As a poet and a printer of letterpress books of my own writing, I relate to the sculptures as physical wordless or subliminal poems. I intend my work to do what sculptures often do, which is to act as another body in the room allowing a kind-of interaction or extra-verbal, embodied, subliminal, poetic conversation between sculpture and viewer


Visit the artist on Instagram instagram.com/andreataylorart
We acknowledge the support of the Canada Council for the Arts.
Nous remercions le Conseil des arts du Canada de son soutien.